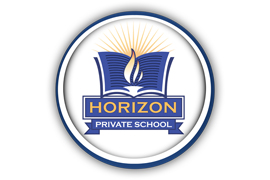 Horizon Private School – Branch, a co-educational school that follows the American curriculum, encourages the development of brave and compassionate young individuals of intellect and integrity who seek to contribute meaningfully to our world. Founded in 2008, it adopts the Common Core State Standards and currently serves more than 1,700 students from KG1 to Grade 12.
Key information
Vision and mission
Horizon Private School – Branch is committed to creating a secure and stimulating learning environment where students can reach their maximum potential through high standards in teaching and leadership. The school strives for young people to become life-long learners and valuable members of the wider global community.
The vision reflects a passionate commitment to scholarship and appreciation of the uniqueness of each individual student, encouraging all learners to:
Take all of life's challenges in their stride.
Dare to dream and be proud of who they are.
Think positively and without boundaries, always striving to change the world for the better.
Learn that while failure isn't fun, it is an opportunity to learn, reflect, and reorganise.
Understand that struggle is sometimes exactly what we need in life for self-improvement and self-investment.
School values
Authenticity
Brilliance
Uniqueness
Diversity
Honesty
Accountability
Bravery
Integrity
Why Choose Horizon Private School – Branch?
What makes this school unique?
Our sense of community and care for each other is tangible and helps us to ensure that all of our students develop the character and skills required for life-long learning, alongside a deep sense of tolerance, respect, and social responsibility.
Since 2012, HPS – Branch has offered 14 different AP (Advanced Placement) courses for students to choose from based on the subjects they're passionate about, as well as what classes they excel in; giving students the academic skills they will need in college.
As an internationally focused American curriculum school in Abu Dhabi, the programme also allows students to earn college credits if they pass the AP external exam. The core curriculum helps strengthen the foundation, while the electives and AP courses are offered to help students enhance and expand their knowledge in specific majors such as Engineering, Medicine, and Business.
HPS-Branch is also an AP Testing Centre, which provides a very comfortable environment for our students while sitting for their external exams.
In addition to the above, Covid-19 safety and precautionary measures are taken very seriously. All classes, corridors, playgrounds, and benches are disinfected regularly and marked with seating/walking signs. The school is also fully equipped with sanitisers and disinfectant wipes in all classes and corridors.
The school has a SEN/Learning Support Department to support Children of Determination. The students' wellbeing is our top priority, and counselling is offered by the school counsellor, teachers, and section coordinators. Moreover, we have an Anti-Bullying and a Children & Student Safety policy in place to protect all our students.
Keeping UAE culture and traditions close to our heart, we have an events calendar that focuses on the importance of national identity. These events include UAE National Day, UAE Flag Day, International Day, Sports Day, and Community Day.
Technology Integration is used in different platforms in order to engage students in having a successful online learning experience. Moreover, the school library is a unique and essential part of our learning community. Our school librarians ensure that the school library environment provides all members of the school community access to information and technology, connecting learning to real-world events. By providing access to an array of well-managed resources, our librarians enable academic knowledge to be linked to deep understanding.
In Kindergarten, we pride ourselves on our highly engaging play-based approach where scientific concepts seemingly integrate with both number literacy and language literacy.
All our teachers are Apple and Google certified.
As our partners in this learning journey, parents are always welcomed at our school with an open-door policy and complete transparency in evaluating students' learning and progress.
Who is the leadership team?
As our partners in this learning journey, parents are always welcomed at our school with an open-door policy and complete transparency in evaluating students' learning and progress.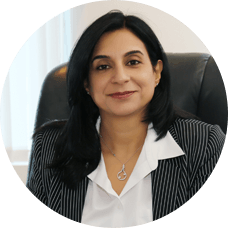 Mrs Amal Shahine, Principal
Mrs Amal Shahine joined Horizon Private School – Branch in 2008 as a founding Principal. Before that, she spent 15 years in an international school in Abu Dhabi, where she joined as a freshly graduated Biology teacher and became Head of Science as well as Head of Secondary.
Mrs Shahine takes great pride in the progress of HPS – Branch. It has gone from a small school of 100 students in its first year to over 1,700 students in its thirteenth year. Due to her dedication and vision, quality has never been compromised; therefore, professional educators have always delivered quality education to our students who are distinguished by their exemplary attitude and respectful disposition.
Why choose this curriculum/programme?
Keeping true to the traditions and culture of the UAE and embracing the best of current educational practices within the American Curriculum (Common Core State Standards), HPS – Branch carries the interests of each child at the heart of everything it does.
At HPS – Branch, we give high importance to the Arabic language by offering a well-balanced curriculum that gives students the opportunity to develop their knowledge, concepts, skills, and attitudes. Through cross-curricular integration, they benefit from the My Identity Programme to obtain essential knowledge of the Emirati culture.
The French language is introduced as a third language starting from Kindergarten. Students have the opportunity to take advanced courses in French and take DELF (A1, A2, B1, B2) exams.
At Horizon Private School – Branch, we cultivate our students' distinctive gifts, supporting them in their passage to adulthood by developing character, intelligence, physical and emotional wellbeing, and cultural awareness. Within this context, we offer an extensive AP programme, offering students in Grades 10-12 the platform to study college-level courses while still in high school.
HPS-Branch is proud of how it meets the needs of every student, with teachers individualising learning for those at all levels of accomplishment, including those with special needs. AP courses are a natural extension of this philosophy, giving our students the opportunity to explore what interests them most, which in turn helps them to discover and pursue a unique direction.
HPS – Branch AP Student Highlights and Achievements over the years
At HPS – Branch we have a small percentage of students per AP class to give dedicated attention to student's needs.
In AP Calculus AB, the success rate was 94%, with most of our students scoring 5/5.
In AP Physics C Electricity & Magnetism, the success rate was 100%, with all students scoring 5/5. In addition, in AP Physics C Mechanics, the success rate was also 100%, AP Physics 1 and 2 (Electricity and Magnetism) AP Physics C (Mechanics)
AP Biology had a 92% success rate.
AP Chemistry had an 80% success rate.
Courses Offered in High School
Core subjects
English Language – Arabic Language – Mathematics – Physics – Chemistry – Biology – Islamic Education – Java – History – Business – Accounting – Economics – Psychology – French – Geography – Computer – Physical Education
AP Courses
AP Calculus – AP Physics 1 – AP Physics 2 – AP Physics C – AP Chemistry – AP Biology – AP Computer Science – AP Geography – AP History – AP English
In conclusion, The Advanced Placement (AP) programme gives students the opportunity to tackle college-level work while still in high school. This allows them to be better prepared for college and, in some cases, earn college credits once they pass the AP exam. Run by the College Board, AP gives students the academic skills they need in college, while providing more time to concentrate on the subjects that interest them.
A Student's Perspective
"During my time at Horizon Private School -Branch, I took a couple of AP courses that helped me as a first-year Medical student. These courses allowed me to grow accustomed to college requirements because what I took in my AP courses was also given during my first year of college. AP courses gave me an advantage that some of my peers did not have, and I advise anyone planning on studying Medicine to take them, especially Chemistry and Physics 1."
Dana Aljneibi, Class of 2020
Campus information/details on facilities and sports
HPS – Branch has outstanding facilities in which students can strive to reach their full potential. Two music rooms, computer labs, a chemistry lab, a physics lab, a biology lab, and two libraries are at the heart of what is an impressive and inspirational learning environment. The latest technology enhances all of these state-of-the-art facilities, helping students to learn, develop, and challenge themselves on a daily basis.
The school began implementing e-learning/ipad use in Grades 3-8 in 2019-2020, before Covid-19 made it a necessity. The school's sports facilities are second-to-none, too, and include a football field, three kindergarten playgrounds, an indoor swimming pool, indoor basketball court, indoor kindergarten gym, and a multipurpose hall.
How many nationalities do you have in your school?
47+ nationalities.
What are the School Timings?
Sunday to Thursday 7:30 am until 3:00 pm
Gallery
Advanced Placement (AP)
As an international American school in Abu Dhabi, HPS-Branch provides a strong academic foundation, where electives and AP courses are offered to help students enhance their knowledge and skills for specific majors such as Engineering, Medicine, and Business. Learn more about meeting the requirements for the Advanced and/or Elite Track Today!
Kindergarten
Learn more about our Kindergarten curriculum and subjects!
Learn more about Horizon Private School – Branch
Enquire now
Main number: +971 2 5560811
Email: [email protected]
Website: www.horizonprivateschool.com
Location Map: www.horizonprivateschool.com/contact-us